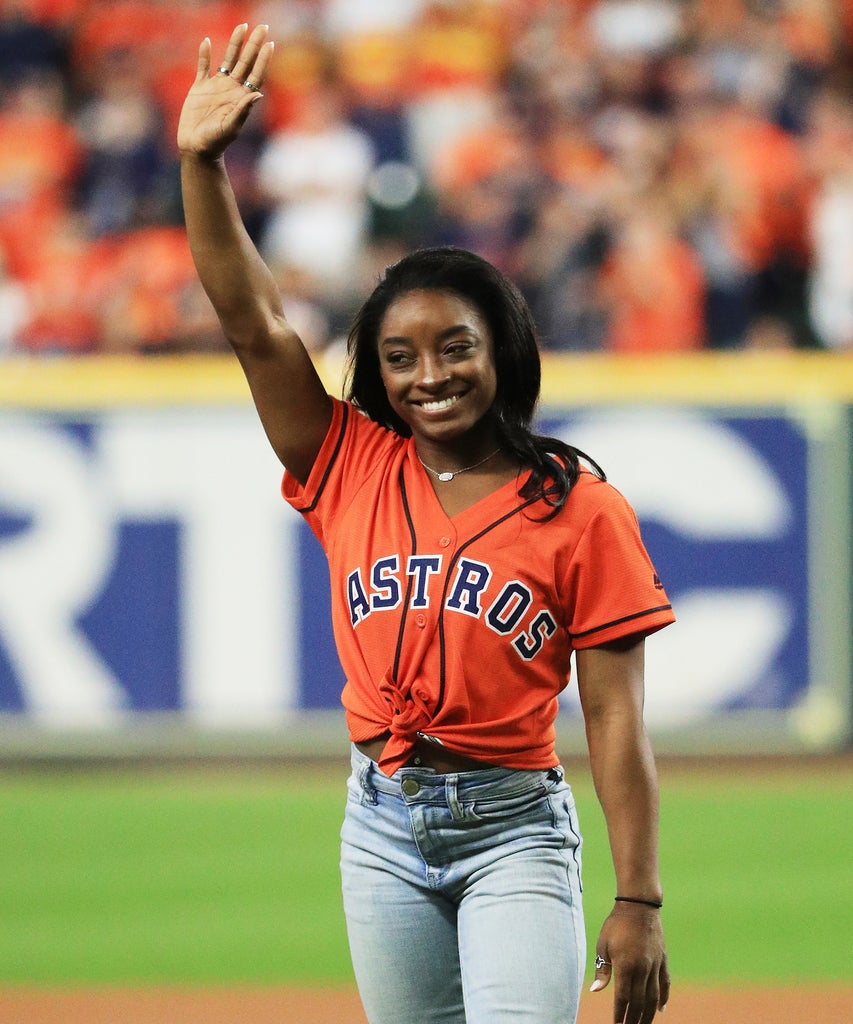 Simone Biles is clearly a woman of many talents. And you can add pitching to the list of them. The heralded Olympic gymnast threw the crowd a curveball by doing a fancy twisting backflip before tossing out the first pitch at Game 2 of the World Series on Wednesday night. 
CBS News reports that she did her fantastic move on the mound at Houston's Minute Maid Park before tossing the ball to Houston Astros outfielder Jake Marisnick. He caught it and signed it before giving it back to Biles. The 22-year-old Team USA star was on her home turf. Although she was born in Columbus, Ohio, she grew up in Houston suburb named Spring for most of her life and still lives there, according to her website. Texas Monthly has called her "the best thing in Texas." 
.@Simone_Biles with the first pitch to end all first pitches…pic.twitter.com/fdg1XQ3hk3

— Mike Leslie (@MikeLeslieWFAA) October 24, 2019
Biles' family came out to support her as she threw the historic pitch. Before the game, Biles tweeted out a photo of her parents kissing, saying they were "THE cutest." She and her family all donned Astros jerseys. 
my parents are THE cutest. ❤️ pic.twitter.com/9LUbebFUWM

— Simone Biles (@Simone_Biles) October 24, 2019
Biles won her 24th world championship earlier this month, making her the most decorated gymnast ever — male or female. 
There was something about Biles' jump that seemed especially bold, since there was no gym mat to catch her if she fell (not that she would), just the dirt and grass on the field. As you'd expect the crowd went wild after the flip. This wasn't the first time she's broken out a jump like this before a baseball game. According to CBS Sports, she also threw the first pitch before another Astros game in 2016, doing a front flip beforehand. 
Alas, it wasn't enough to bring good luck to the Astros, ESPN reported. They lost the game to the Washington Nationals 12-3. 
.@Simone_Biles adding her own twist and turns for tonight's 1st pitch before Game 2 of the World Series. #Astros pic.twitter.com/0ftW76JUe8

— Daniel Gotera (@DTGoteraKHOU) October 24, 2019
Like what you see? How about some more R29 goodness, right here?
The First Reactions For Little Women Are Here